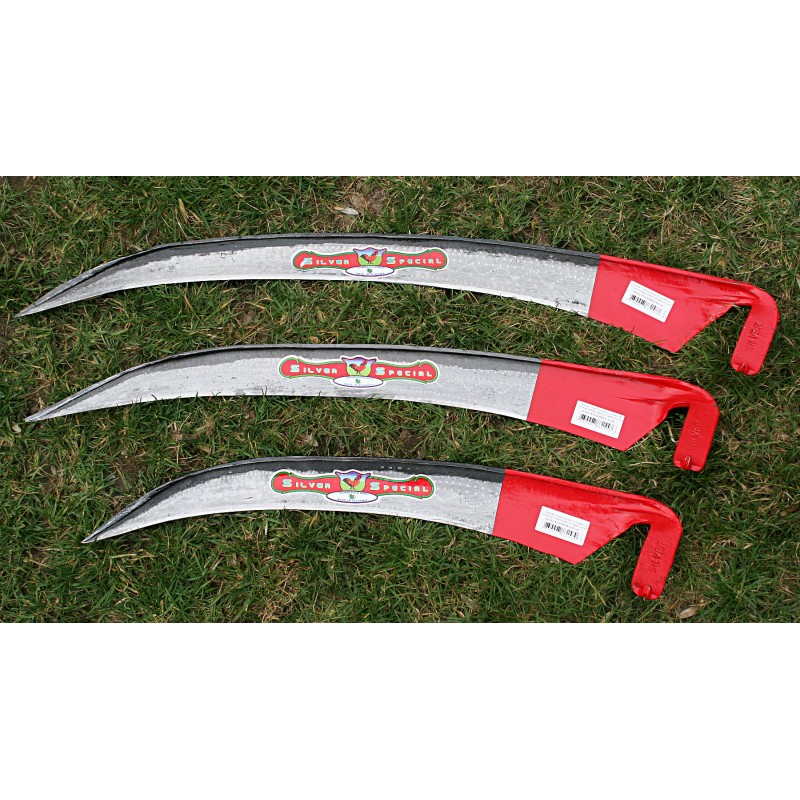  
Scythe Styria Silver
Traditionally forged Styrian (Austrian) style scythe suitable for modern ergonomic mowing. It comes from Slovenian factory "Tovarna Kos in Srpov" with tradition since 1881. Pick blade size between  60, 70, or 80 cm. With this scythe you get the best value for your money on the market.
This Slovenian scythe is hand forged from excellent hard steel using traditional way of approximately 25 technological steps. It is forged from round stock - not from prefabricated steel plate. This ensures maximum toughness. It can be peened into very fine edge without cracking of the material.
Dan Mikušík - the ScytheLand originator - has been using his Silver 80 regularly for more than 12 years. It has experienced a lot and is still fully functional.
Geometry of this scythe allows for ergonomic mowing in diverse conditions. It is slightly bent in both longitudinal and lateral axes.
Longitudinal bend prevents sticking the point to the ground. The scythe smoothly glides even through uneven terrain without the need to lift it from the ground.
Lateral bend enables cutting of the grass stems with minimal friction and prevents the edge from dulling fast.
Compared to the austrian Hartstahl scythes it is slightly heavier. Straight from the factory, the edge is less pre-peened. When ordered in the "Hand peened" condition, you get equivalent quality edge on both scythes.
Blade width (measured in the middle of the blade) is 55 mm.
Pick your length from 60, 70 or 80 cm:
Short scythe (60 cm) is great for mowing in cramped spaces. Short scythe does not require much strength, which suits physically weaker mower. Poorly maintained land with hard plants is easier to mow with the short scythe.
Medium sized scythe (70 cm) is universal: suitable for gardens, orchards or meadows. Again, you have to consider mower's abilities.
Long scythe (80 cm) is great for cutting large and relatively flat land. Mowing is faster, but requires more strength.
The length is measured along the curved blade edge.
During our mowing practice and running of mowing courses, we had an opportunity to try many different scythes. This one was chosen by us as the best value for your money. We intentionally abstain from offering variety of regional models to avoid confusion. Different mowing techniques were used in different regions. The ergonomic mowing technique surpasses most by comfort and effectiveness. The Styria Silver in combination with our ergonomic snath perfectly fits the ergonomic mowing system.
From factory, the scythe is not in ready to mow condition. If you choose the Condition to be "Hand peened", you will receive a scythe with paint removed along the edge, grinded on a water cooled grinder for consistent thickness and hand peened in at least 3 passes.
Scythe weight:
| | |
| --- | --- |
| Styria 55/600 (60 cm) | 0,47 kg |
| Styria 55/700 (70 cm) | 0,53 kg |
| Styria 55/800 (80 cm)       | 0,58 kg |
Specific References
ean13

3830007831539